Violation of these policies may result in eviction from the park.
Stay inside your vehicle at all times.

No sitting on sunroofs, windows or hoods of vehicles. No one may ride in the bed of a pickup.

Keep doors closed at all times.

This includes tailgates, van doors, and hatchbacks. Jeeps must have side doors and a top. Convertibles must have the top up.

Pets are not allowed.

Our animals present a safety risk to domestic animals.
Dogs that qualify as a service animal under the Americans with Disabilities Act and Texas law are not permitted in the park, as we have both animals throughout the park that are natural prey and natural predators of dogs. "See Q26" Https://www.ada.gov/regs2010/service_animal_qa.html
Service animals are permitted in the Welcome Center and parking lot, so long as the dog remains under the control of the handler.

Remove flags, balls, or other objects from the outside of your vehicle.

Animals are attracted to them and, if eaten, can cause serious injury. Violation of this policy will result in eviction from the park.

Stay on the roads.

Follow the arrow route signs.

Animals may bite, spit, or kick. Do not pet or touch animals.
Pull to the side of the road when stopping.

Allow other vehicles to pass.

Speed limit 10 mph.
No alcohol allowed on this property.
No Coach Buses, RV's, Trailers, Motorcycles, or ATV's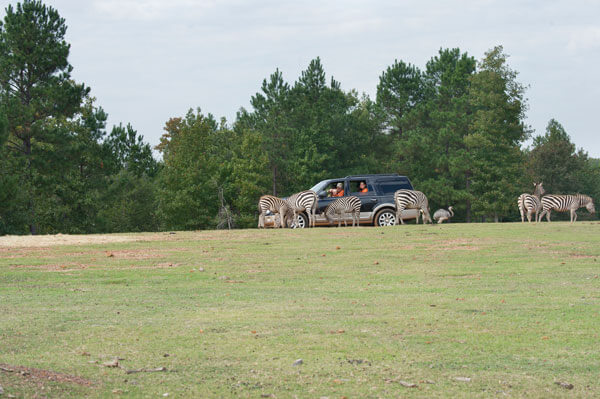 Cherokee Trace assumes no liability for damage to vehicles, persons, or property as a result of interactions with the animals and facilities.
Cherokee Trace reserves the right to remove, without refund, anyone who violates the Rules of the Road.